MEA
UTECH Middle East a great success
Evonik showcased its innovative product portfolio at the second edition of UTECH Middle East in Dubai. TEGO® RISE, a software solution in the Next Gen Solutions category, was also showcased during the three-day exhibition.
In September, the time had come again. Following the launch of UTECH, an exhibition and conference for the global polyurethanes industry, in the Middle East last year, the second edition took place at the World Trade Center in Dubai, United Arab Emirates. The inaugural event last year welcomed over 4,000 visitors from more than 70 countries. This year, even more exhibitors were present to showcase their portfolio. One of the exhibitors was once again the team of experts from Evonik.
Evonik is a leading global supplier of essential additives for the production of a wide range of polyurethane foams. Its innovative product portfolio contributes to the outstanding performance of polyurethane foams, and in some cases makes it possible in the first place. In the production of flexible polyurethane foams, our additives enhance the comfort properties of mattresses, upholstered furniture and car seats.
These properties also impressed visitors to the trade show. Evonik's booth was abuzz with visitors and their wide-ranging set of questions.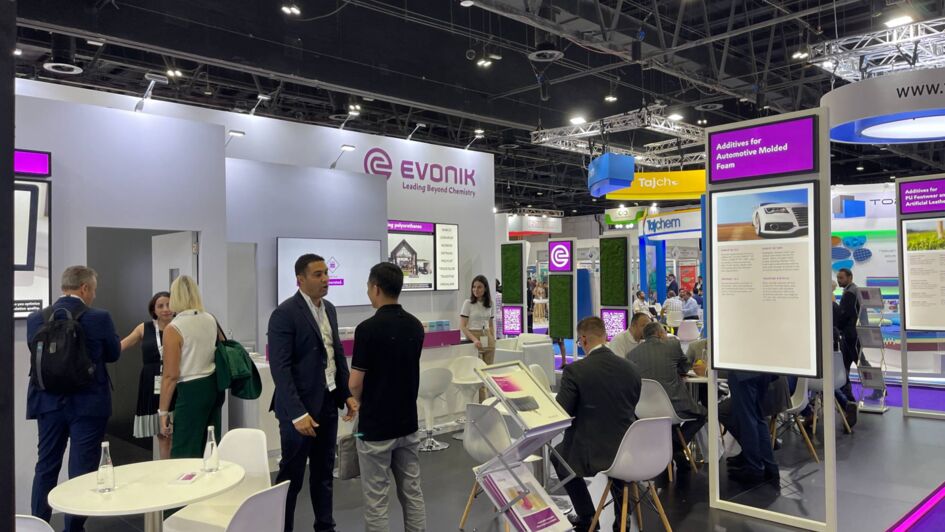 At the UTECH Middle East trade show, Evonik presented TEGO® RISE as an innovation. With this software solution, customers can test all the necessary parameters and simulate production processes in advance. This makes processes more economical, faster, and, above all, more environmentally friendly. TEGO® RISE belongs to the category of Next Gen Solutions with which we help our customers to produce more sustainably.
Company information
Evonik is one of the world leaders in specialty chemicals. The company is active in more than 100 countries around the world and generated sales of €18.5 billion and an operating profit (adjusted EBITDA) of €2.49 billion in 2022. Evonik goes far beyond chemistry to create innovative, profitable, and sustainable solutions for customers. About 34,000 employees work together for a common purpose: We want to improve life today and tomorrow.
Disclaimer
In so far as forecasts or expectations are expressed in this press release or where our statements concern the future, these forecasts, expectations or statements may involve known or unknown risks and uncertainties. Actual results or developments may vary, depending on changes in the operating environment. Neither Evonik Industries AG nor its group companies assume an obligation to update the forecasts, expectations or statements contained in this release.